Image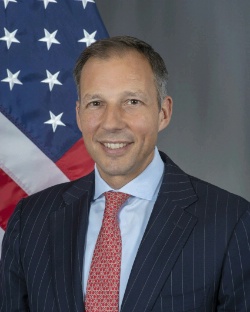 The US reiterates its support for European energy security and diversification
In his recent trip to Europe, Bureau of Energy Resources Assistant Secretary Francis Fannon visited Prague, Budapest and Zagreb to discuss European energy security. The United States – Mr. Fannon reiterated – remains committed to support European energy differentiation and to reduce its dependency from Russia.
This statement is delivered by our Diplomatic Council Partner Diplomat Magazine
In a moment of increasing tensions between Russia and the West, Bureau of Energy Resource Assistant Secretary, Mr. Francis Fannon, recently traveled to the Czech Republic, Hungary and Croatia in order to discuss European energy security. This trip was part of a broader outreach effort , which led Mr. Fannon to travel also to Ukraine, Poland, Greece and Portugal earlier this year.
While European energy security has beena "longstanding strategic priority" for the US, such issue is currently all the more important in the light of the current tensions in the Azov Sea – A/S Fannon stressed – which have proved once more the unreliability of Russia as an international actor. As Russia tries to severe the links between Ukraine and Europe, for example through projects like the Nord Stream 2 and the Turkish Stream pipelines, the US and its European partners should swiftly react.
Mr. Fannon specifically lashed out at the Nord Stream 2 project, which is set to provide a new route for Russian natural gas to flow into Europe without transiting from Ukraine.
He described the project as a "direct affront to the transatlantic energy security relationship and our [US and Europe] shared national security goals," and he called on European countries involved, such as Germany and Denmark, to use their leverage to halt the project. Moreover, while refusing to provide details on potential measures, A/S Fannon reminded that the US "has the ability to sanction Russia energy export pipelines", and that firms involved in this sector might be exposed to sanctions risks.
Mr. Fannon also called upon the EU to move forward with its energy diversification efforts. In a moment of abundance of energy supplies, not only in the gas sector, but also in the renewable and nuclear ones, the EU should aim at differentiating its supplies and create real market competition dynamics.
A/S Fannon reiterated the US readiness to support such approach, and praised ongoing European efforts such as the Greece-Bulgaria Interconnector Pipeline, the Krk Island LNG Project in Croatia, Lithuania's floating storage and regassification unit, as well as the project of the Midcat Pipeline.
To use the words of A/S Fannon in his concluding remarks, "We have to stand together, and we very much support the continued energy diversification and energy security goals that advance our shared transatlantic values."